This course is for leaders, facilitators, teams and other people, who want collaboration to be driven by inspiration & commitment rather than obligation (have to). Sociocracy is also called "Dynamic governance" because the organizational structure is flexible and changes according to the needs of the organization. Thus the structure is subordinate to content and direction, rather than accidently controlling content and direction, as it so often happens.
The course gives you a full overview over sociocracy, how it relates to various leadership styles and practical training in the functions needed to implement it in your team. Thought storm, a simple, but proven method to create synergy, common ground and commitment in a team adds an extra dimension, which makes the decision making process even more efficient.     
During the course you will 
achieve a basic understanding of what sociocracy is, how to implement it and the advantages and challenges you would face if it was implemented in your organisation. 

get trained in the basic roles of the circle (≈ team). 

get basic training in sociocratic facilitation

learn how to focus the energy of a group, when you are in the role of a leader or facilitator. 

learn how to change roles, so it's clear when you are giving your personal contribution to a situation and when you are the leader/facilitator. 

learn how to handle resistance in yourself or others, so it doesn't block productivity. 
Teams, working groups, and communities who participate will furthermore have the option to start the implementation of sociocracy in their team during the course. 
Content: 
Day 1
: 
What is sociocracy & how does a sociocratic organisation differ from other types of organisations. 

Vision, mission, aim

Introducing the Thought storm Method.

Creating a vision for this course: Where do we want to be when the course is over? What do we want to know? What do we want to master?

Setting up appropriate circles in your organisation (examples)

participants are divided into circles. (Communities, organisations, working groups that participate have their own circles – the rest get a circle for the course)

What is required to set up a sociocratic organisation. 

Each member of the circle consent to 

use sociocratic decision making during the course. 

the other members in the circle

Discussion of different types of leadership and how they may be used in sociocracy. 
Roles in sociocracy

Sociocratic elections

Sociocratic decision making
Day 2: 
Sociocratic decision making is trained in the circles

Each circle decides how to contribute to the vision – their aim

Each circle create a plan for how to go about reaching their aim

Coordination circle

Function

Typical agenda

Meeting in coordination circle (fishbowl) 

The challenges of setting up a sociocratic organisation in a country where the legal structures are based on majority decisions

Sociocratic evaluations
About the teacher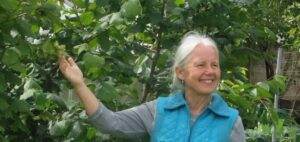 Kristiane Ravn Frost has been working with team and project development since the mid nineties. She was trained in sociocracy by Sociocracy For All in the spring of 2017, after which she participated in developing their facilitator training. As a member of the governance group in Gen-Europe, on the board of LØS (Landsforeningen for økosamfund) and as a founding member of Avnø Oasis Ecovillage, she has played a key role in the implementation of sociocracy.  She is known as an excellent sociocracy teacher and facilitator. 
Practical information
Arrival:

Friday evening or Saturday morning

First teaching session starts Saturday morning at 9 am
Last teaching session ends

Sunday before dinner at 6pm

Departure: 

Sunday night or Monday morning before 10 am
We are looking forward to welcoming you to  "Sociocracy, co-creation, facilitator and leadership training"